How To Refinish Kitchen Cabinets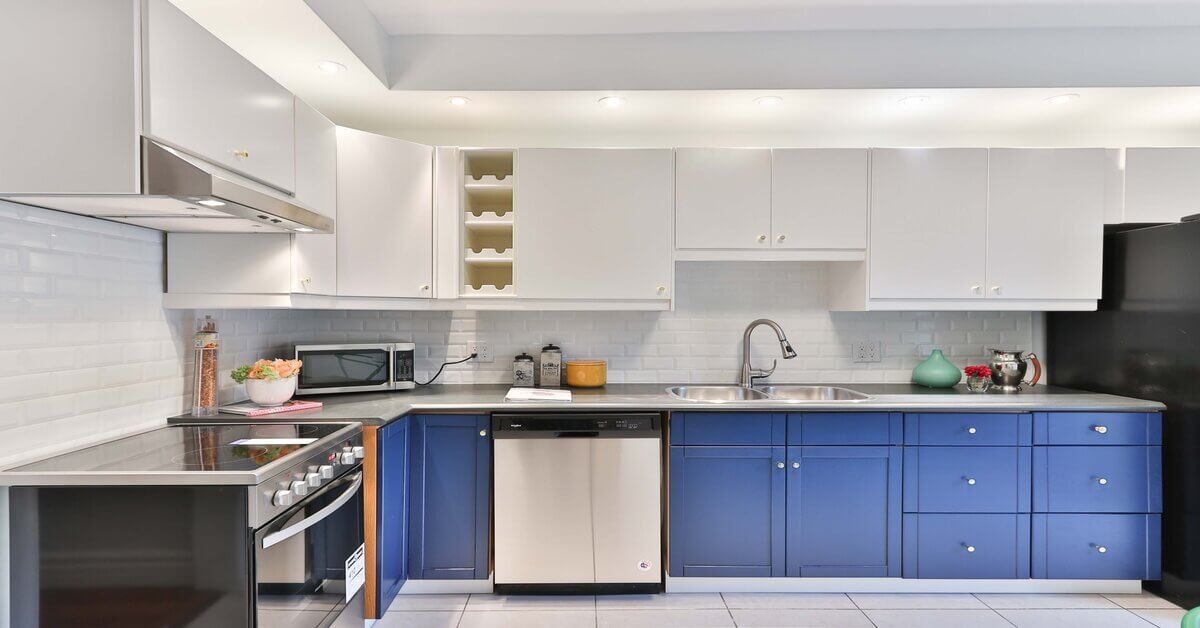 Regular maintenance and repairs, especially when preparing a unit for a new tenant can get expensive. With a high turnover of tenants or the more units owned, those costs can add up quickly. One way to keep costs down is to do some of that routine maintenance yourself. 
New kitchen cabinets can cost over 5,000 dollars while refinishing and painting them yourself can cost only hundreds. You could pay workers to do the job for you, but that will increase the costs just to touch them up. Painting the cabinets yourself can be done in a weekend if you know what you're doing.
Before starting
Examine the cabinets to make sure they don't have any structural damage. As long as they are in good condition, you won't need to replace the cabinets. There is also a good chance the older cabinets are made with a higher quality of material than any newer reasonably priced cabinets. 
Both oil and latex paints can be used. Latex paints tend to take longer to cure but they are more user-friendly for those who aren't experienced. If you do choose latex paint, make sure it is a 100 percent acrylic formulation.
Brush and spray paint are both options. Spray painting may require you to pick up some extra equipment depending on what you already have. It will require a space that won't risk paint getting everywhere and will also require a mask and this could end up being more time-consuming.
Be sure to use high-quality brushes. Purchase a 3 to 4-inch wide square brush as well as an angled 2 and a half to 3-inch wide brush. Use a synthetic bristle brush for latex paint and a natural bristle brush for oil-based paint.
If the existing finish is a clear coat, it's a good idea to strip it down to the bare wood before painting. This will eliminate a potential adhesion problem with the new paint.
Step 1: Prep the kitchen
Empty all the cabinets. Clear all the counters and remove all the free-standing appliances

Move all tables and furniture out of the room 

Tape rosin paper over the counter and the floor. Use plastic sheeting on the backsplash and any windows and doors. 

Mask off the walls around the cabinets

Set up a worktable for painting the drawers, doors, and shelves.
Step 2:  Remove the shelves, drawers, and doors
Remove the hinge screws from the cabinet and remove the doors

Working from left to rights and top to bottom, number each piece with tape and number where they came from with the same number. 

Set aside shelf hanging hardware

At the worktable remove any screws and hinges. Be sure to save anything that will be reused. 

Move the numbered tape to the exposed wood where the hinges were 
Step 3: Clean the surfaces
Use ordinary household cleaners to remove the grime from all of the surfaces you intend to paint. If ordinary cleaners don't do the job, you can use trisodium phosphate, which is sold at hardware and paint stores. Make sure you follow all safety precautions.

Once all the surfaces are clean, rinse them with water and let them dry completely
Step 4: Prep boxes
Put on required safety gear. Open any windows in the room for ventilation. Dip the abrasive pad in deglosser and scrub down all the surfaces

Hold a rag underneath to catch any drippings. Use a separate rag dampened with deglosser to wipe away any residue.

If you're relocating any of the hardware, fill the screw holes with a two-part wood or autobody filler

Fillers set in about 5 minutes so only make small batches. It also shrinks when it sets so be sure to overfill the holes

Remove any excess with a paint scraper or if it becomes too hard, sands it down smooth.

Sand with the grain on all surfaces using 100 grit sandpaper 

Vacuum all the dust when you're done. Also, wipe down with a tack cloth to make sure there is no more dust
Step 5: Prime cabinet boxes
https://www.youtube.com/watch?v=BkGdpfZ7FXM
Use a blocking primer on any heavily stained cabinets. It dries quickly and seals any knots and other surface defects that could possibly bleed through 

Start brushing the primer at the top and across the grain, then tip-off. Pass the brush lightly over the wet finish in the direction of the grain then tip-off. Always do this in one pass 

Be sure to follow the underlying structure of the cabinet and door with the brush. Where a rail butts into a stile, paint the rail first, overlapping slightly onto the stile, then paint the stile before the overlap dries.
Step 6: Sand, Caulk, and Fill
When the primer is fully dry, use 220 grit sandpaper on the flat surfaces

Using a medium grit sanding sponge, sand all profiled surfaces. They should be glassy smooth when done. 

Squeeze a bead of latex caulk into any open seems. Caulk tip should be no thicker than the tip of a pencil. 

With a damp finger, smooth the caulk. Fill any small dents, scratches, or dings with vinyl spackle. Smooth with a flat with a putty knife

After about an hour when the spackle is dry, sand with 220 grit sandpaper. Then vacuum and wipe down with a tack cloth 

Touch up any spots where sandpaper might have burned through the primer with a spray can of fast-drying oil-based primer.
Step 7: Paint the cabinet boxes
If the new color is the same shade as the existing color, you might be able to get away with using just two or possibly one coat of paint.  Using a lighter finish over a dark coat would take three coats. Be sure to use a new brush with each coat. 

Starting from top to bottom, brush across the grain, then tip-off with the grain. 

Use a mini paint roller for the interior of the cabinet 

Sand the surface between each coat and make sure to remove any dust or debris. 
Step 8: Prep, prime, and paint the doors, drawers, and shelves
Be sure to use the worktable to reduce the risk of any drips, sags. or runs. 

For paneled doors, start with the area around the panel.

Next, do the main field panel, followed by the stiles and rails around the edges

Wipe up any paint that ends up on the dry parts to avoid lap marks

When you're done painting, pick up the door by the screw and one hook and hang both hooks on a sturdy clothes hanger. 

Hang from a curtain rod or clothes rod until dry
Step 9: Put everything back in place
Make sure everything is dry before the next step

Match the numbered tape on each piece and remove the tape before installing. Install all the hinges and knobs. 

Replace the drawer pulls and install each drawer. 

You're done!