Top 5 Fastest Growing Cities In Washington
Over the last decade, Washington has been one of the fastest-growing states in the country. It makes sense considering how attractive the state is for new residents. While the weather might not be the most moderate, it isn't too extreme in the summers or the winters. There are a lot of economic opportunities for those looking to advance their careers, and there is plenty of entertainment and recreational activities all throughout the state. With a fast-growing population comes increased demand for housing. This means the rising value of homes and increases in rent. Here are the fastest-growing cities in the state:

Seattle
Seattle is the largest city in the state and one with an abundance of amenities and economic opportunities making it one of the most desirable cities in the country. The population increased by over 128k people over the last ten years. Even though the city has been building a lot of housing over the last decade, it hasn't been able to keep pace with the population growth and rents have continued to increase over the years. As the population continues to grow, the city will continue to be an attractive place for those looking to rent a property. 
Kent
As the city of Seattle has grown rapidly, so have the rest of the suburbs surrounding it. One of the fastest-growing suburbs in the area is Kent. The population increased by 44k residents over the last decade. This has led to a drastic increase in both rent and home values in the city. As the demand continues to grow throughout the region, the surrounding cities will continue to be attractive areas for those seeking investment properties. 
Kirkland
Kent is the second-fastest-growing city in the state, but coming in a close second is the Seattle suburb, Kirkland. From 2010 to 2020 the population grew by just under 44k residents. Kirkland is an attractive suburb because of all the amenities it offers right there on the waterfront. 
Bellevue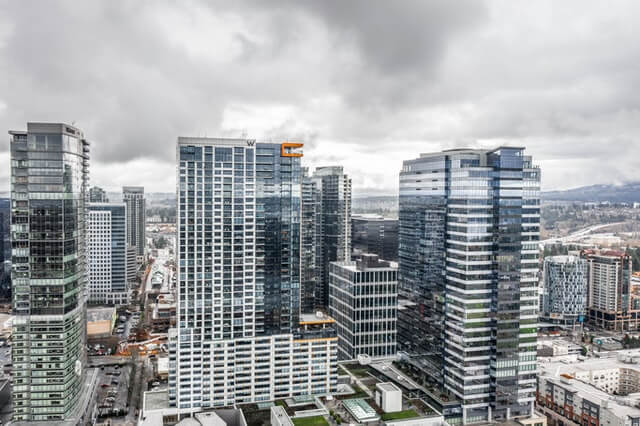 Bellevue is a midsize city with a fast-growing urban core and downtown area. Over the last 10 years, the population increased by almost 30k residents bringing the population up to 145k. With an abundance of economic opportunities and major corporations headquartered in the city as well as its proximity to Seattle, it makes Bellevue a city in high demand. 
Vancouver
Vancouver is a unique midsize city due to its proximity to a major out-of-state major city. It is a short commute to Portland Oregan making it an attractive place to live for those who are employed in the nearby city. Since 2010, the city has grown by almost 30k residents. This makes it the fastest growing city outside of the Seattle area.