How to Manage Properties As a First-Time Landlord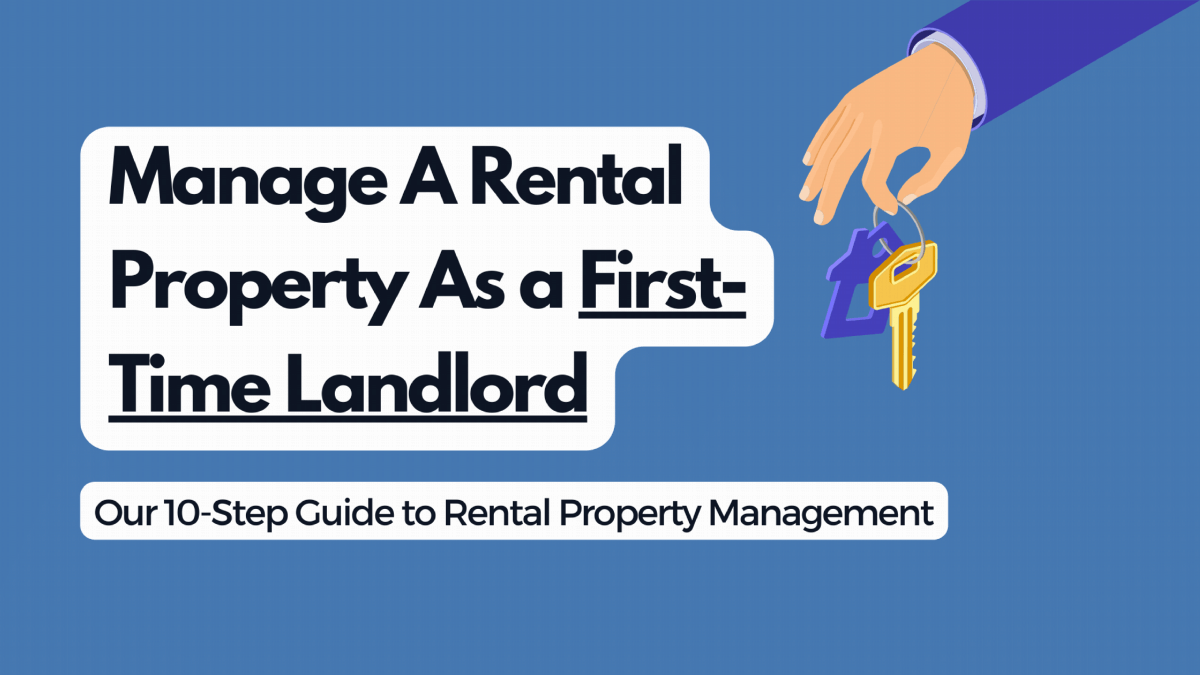 From an outside perspective, becoming a landlord and managing an investment property sounds simple. You make a real estate investment. You put the rental on the market. You rent to a tenant, and then you print money. Unfortunately, being a landlord isn't that easy, and there is a lot of information a property owner needs to know before becoming a landlord. You'll need to know how to manage rental operating costs. You'll need to know fair housing laws. You'll need to understand local market trends. It can be so complicated that some landlords will hire a property management company to manage their rental home. 
Your Role as a Landlord
Being a landlord is a business, and every landlord needs to treat it as a business. This doesn't mean spending as little and charging as much as possible. It means spending your money wisely, putting a quality product on the market, finding a long-term renter, and keeping your tenants happy. Being a homeowner and landlord means problems can arise from day-to-day, which means part of your job requires you to respond to issues that might come up any time or day of the week. For that reason, some homeowners opt to hire real estate brokers for their property management services. 
As a landlord, you are also responsible for the health and safety of your tenants. You are required to keep the basic systems of the home functioning. For example, you must maintain the electrical systems, plumbing, and heat. There are also numerous laws you should be aware of, like the Fair Housing Act. Real estate is a complex industry, so even the most experienced landlords will hire experts to help them navigate the industry.
Managing the Property
To get high-quality tenants, landlords can't do the bare minimum. Ideally, you will want to have your rental home up to date with the design and appliances. Once you have brought your rental property up to date, you'll need to maintain the property. Maintaining a home is essential for increasing the value of your property over the long term, but it is also essential when it comes to keeping high-quality tenants. 
Landlords should be responsive to maintenance requests and not put off any repairs just because they aren't legally required. Any maintenance issues a tenant submits to you affect how comfortable they feel in the home. If you regularly deny maintenance requests, eventually, that tenant could look elsewhere regarding a rental home. The higher turnover you have on your rental leads to a higher vacancy rate, which means less revenue over the lifetime of your real estate investment. If a landlord feels they can't be as responsive as they would like, it is common to hire a residential property management company to handle all the day-to-day management of their rental property. 
Managing Your Tenants
Tenant turnover is a primary concern for landlords. Turning over a rental unit can leave the property vacant for at least a month, a month of revenue a landlord can never make up for. Finding new tenants can also be difficult depending on the supply of the local rental market, and desired move-in dates don't always align with the timescale a landlord prefers. 
Ideally, landlords want long-term tenants over tenants who move out at the end of the lease. (This is one of the reasons why investors consider rental properties with existing tenants). This is especially true for high-quality tenants who don't have many complaints and avoid problems with the neighbors. If you have a multifamily building or a unit in a multifamily building, finding amicable tenants who get along with the neighbors is essential for maintaining a low vacancy rate. 
Effective communication is one of the most critical parts of being a landlord. Being responsive to complaints and working with your tenant's needs instead of treating them like a nuisance is one of the most effective ways to keep long-term tenants. Sometimes, long-term tenants are even willing to pay for minor improvements to the rental unit, which is why communicating with them is so effective. Listening to their complaints will also help you identify any undesirable issues with your rental unit and allow for opportunities to fix those issues. 
Managing Finances
One of the main attractions to becoming a landlord is creating positive cash flow. Unfortunately, not all of the revenue collected from rent payments is profit. Managing a rental property requires property bookkeeping. Your rental income needs to cover all your operating costs at a bare minimum, which means there is a limit to how low you can drop the monthly rent on a rental property. Your property accounting also needs to account for any unexpected expenses that might pop up in the future. This means that some of the revenue over the operating costs will need to be saved for an emergency repair fund. 
If money management isn't a strong suit, it might be best to hire a property management company or use property management software that can help with your finances. The last thing you want is to increase your operating costs by accruing late fees on mortgage or insurance payments. Property management companies have a fiduciary responsibility to handle all of the financial needs of your property rental business. Property management software can also help collect rent by allowing tenants to pay online through a web portal or set up automatic payments each month. 
Our 10-Step Guide to Rental Property Management
For best property management practices, you want to think about both the short, and long-term needs of your business. You need a full-service team that can handle all the maintenance and repairs. You need to be able to streamline the processes for rent payments and tenant requests. You'll need to be able to present and market your property. You'll need a deep knowledge of the local housing market to set a proper rental rate for your properties. The more properties you have, the more likely you will need a rental property management team. 
Step 1: Carry Out Repairs and Maintenance
Before buying your first rental property, you will need a thorough inspection to ensure the property meets health and safety codes. One of the most basic needs for a legal rental home is that it is safe and habitable for the tenant. Over the life of the property, you'll need to address andy repair issues to protect your real estate assets. One way of doing this is by having an annual inspection even if a tenant doesn't move out. This can help spot water damage, mold, or termite infestations that might lead to more extensive repairs. 
Step 2: Improve Presentation and Appeal
Attracting high-quality tenants and keeping vacancies low requires a little extra effort. People want their homes to look cared for as a source of pride, but they aren't going to do the work for you. If there's no landscaping out front, and the exterior paint is fading, a potential tenant may not even look inside. If the home's interior hasn't been updated since the 1970s, a high-quality tenant will likely look for a more modern home. Creating a modern, clean, and neutral living space is the best way to attract high-quality tenants
Step 3: Set a Competitive Rent
Setting rent may be one of the most essential parts of being a landlord. You don't want to set rent too high, which will increase your vacancy rate and cause revenue loss. You also don't want to set it too low, making it challenging to increase rent to market rate down the road. Single-family homes typically allow for more expensive rent, while a multifamily home of a similar size may be a little less. You can gain insights into market rates through various rental sites like Zillow and Craigslist to see what landlords are charging for similar homes. Certain factors will contribute to how much you can charge for rent. Some of those factors include the local housing supply, the local economy, and how desirable of a neighborhood the home is in. If the home is in a trendy, transit-rich, walkable neighborhood with good schools, you will likely be able to charge rent on the high end of the region. 
Step 4: Advertise Your Property
Gone are the days of sticking a "for rent" sign up in front of the home and a short description of the rental home to the local newspaper or waiting for realtors to bring clients. Now you need to market your rental property like a brokerage would market a home for sale. This means you need to think about getting some professional-quality photos done. You can use these high-quality photos to list the property on sites like Zillow or Craigslist, some of the most common ways renters find homes.  
Step 5: Manage the Tenant Application Process
Every state and municipality has its laws that govern tenant applications. Some laws make it difficult to screen tenants beyond essential credit and background checks. They also may require you to take tenants on a first come, first serve basis as long as they pass the basic requirements. Some laws also limit how much can be charged for an application fee. Some landlords tried to profit off application fees which is why states implemented limits. It's also essential to understand fair housing laws. You can get sued over fair housing laws even if you were unaware of what they were. 
Step 6: Conduct Interviews and Checks
Background checks are one of the best ways to screen potential tenants, but not every lousy tenant will have indicators in their background check. To ensure you lease to quality tenants, you should interview them. Ensure your questions are legal and ethical before interviewing potential tenants or conducting background and credit checks. If it is required you rent on a first-come, first-serve basis, then conducting interviews as part of the process wouldn't be a good idea. 
Step 7: Draft the Lease Agreements
You'll need a standard lease agreement to lease your rental home. This is the same for both residential and commercial property. Since this is a legal document, it is best to consult and hire a lawyer knowledgeable about landlord-tenant laws to draft your standard lease agreement. 
Step 8: Collect Security Deposit and Rent
Collecting rent and holding security deposits are some of the main functions of a landlord, and you will want to make this process as simple and transparent as possible. Disputes over security deposits are among the most common ways landlords end up in small claims court. Typically a security deposit is half or the same as one monthly rent payment. Security deposits can be greater if the amenities in the home require it, but some states and cities limit how much landlords can collect for a security deposit. Once a lease has been signed and a security deposit has been collected, a landlord should set up an online web portal to make it easier to collect rent. 
Step 9: Handle Evictions and Disputes
One thing every landlord wants to avoid is eviction. It can be a costly nightmare that drags out for months if the tenant chooses to challenge the eviction. This is why it is so important to know the landlord-tenant laws and document any complaints about tenants. You also want to document any communication with those tenants about potential violations with digital copies and any contemporaneous notes. If a discussion is verbal, write down what was discussed immediately after the conversation. These notes can be used later to defend yourself should you go to court. 
Step 10: Carry Out Regular Maintenance and Checks
Regular inspections can be time-consuming, which is why responding quickly to maintenance requests is the best way to make sure your property is well maintained. Unfortunately, some tenants are hesitant to request repairs which means much-needed maintenance can go unnoticed. Annual inspections are necessary even if a tenant hasn't moved out.
Is it Hard to Manage a Rental Property?
There are a lot of risks and liabilities that go with being a landlord, and newcomers will need help navigating all those risks. Even people who have spent years in the real estate industry don't know everything. If you feel like you're biting off too much to chew, hiring a property management company to handle the day-to-day tasks may be your best option.  If you're renting a multifamily unit and most of the exterior maintenance is handled by an HOA, hiring a property manager may not be necessary. 
Ready to Begin Your Landlord Journey?
Because so many different governments set the rules for real estate, owning an investment property can take time and effort. Owning a home in Cleveland isn't the same as owning a property in Los Angeles. This is because of the various levels of government in the United States, from federal to state, to municipal. At each level, the rules change, which will require a learning curve any time you plan to expand into a different region. This is why companies like Ziprent can help you on your journey by providing first-time landlords with local experts regardless of where you are. The property management services through Ziprent provide landlords with the software they need to manage their investment properties and local experts to help them navigate the industry.